BOOK YOUR SERVICE
CONTACT US

An outstanding range of stoves, fires, and fireplaces
Call 011 789 6236



BOOK YOUR SERVICE
CONTACT US

Call 011 789 6236


Get in touch with the industry experts

BOOK YOUR SERVICE
CONTACT US

Call 011 789 6236


Over 35 years of experience combined with a wealth of industry knowledge



BOOK YOUR SERVICE
CONTACT US

Call 011 789 6236


Over 35 years of experience combined with a wealth of industry knowledge



BOOK YOUR SERVICE
CONTACT US

An outstanding range of stoves, fires, and fireplaces
Call 011 789 6236


Pizza Ovens
ALFRESCO PIZZA OVENS
Wood-fired ovens are about more than just perfect pizza. Almost any recipe can be adapted. Discover a multitude of dishes that you can create with this gourmet appliance while spending quality time with friends and loved ones.
Cooking with an open fire brings out unique #avours in every dish, from delectable appetizers, roasts, bread, vegetables, and hearty stews to even mouth-watering puddings. Wood-burning pizza ovens have a long legacy in the world of cooking. So, gather your family and friends around your oven to cook a range of gourmet foods.
We have 3 different models wood-burning pizza ovens to cater for all different needs and affordability
Magnifique Wood-Fire Pizza Oven
Our MAGNIFIQUE model bakes 1 large or 2 regular pizzas at a time. This oven is suitable to use next to your built-in braai and fits into smaller entertainment areas. Our small oven has a big enough opening to bake your own bread or medium-sized oven dishes.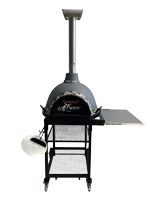 Grande Wood-Fire Pizza Oven
Our GRANDE oven is the ideal size for larger families or entertaining friends at home. Generous inside diameter to bake 2 large or 3 regular pizzas at a time or any other slow roasting or baking to perfection with an authentic wood-fired taste.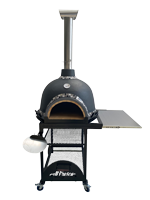 Festivo Wood-Fire Pizza Oven
The FESTIVO is the largest mobile wood burning pizza oven available anywhere in the world! Tried and tested by small restaurants, lodges and guest houses. The Festivo oven bakes 3-4 large pizzas at a time. Superior heat absorption and retention…